From the gracious gift of natural mineral water sourced from our spring in Victoria's idyllic Daylesford region, the Daylesford & Hepburn Mineral Springs Co. crafts a range of refreshingly natural drinks with pure flavours and honest ingredients. Frequently found in Australia's favourite cafes and restaurants, our premium waters, organics, naturals, and juices are the perfect accompaniment for sparkling conversation with friends, whatever the occasion.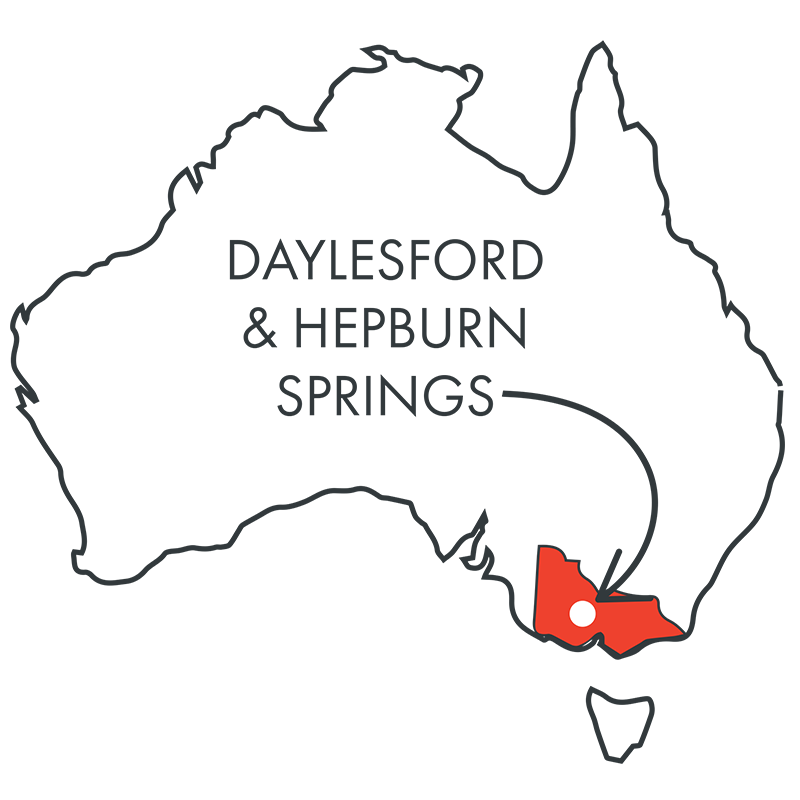 Founded in 2006 by Brylie Rankine, the Daylesford & Hepburn Mineral Springs Co. sprang from the observation that, despite the vast number of people visiting the region each year to 'take the waters', no local mineral water was available to drink in its cafes and restaurants—just expensive imported European brands. Pre-empting what was to become a mass movement in honouring local provenance in food and beverages, Brylie bottled and distributed her first batch of pure and natural mineral water, financed with her credit card.

Some 16 years later, the company now has over 25 products, supplying the unmistakably subtle and elegant flavours of Daylesford & Hepburn Springs across Australia and to the world.
Bubbling up through layers of ancient rock some 450 million years old, our mineral water pushes to the surface naturally enriched with minerals and containing the signature taste of the Daylesford and Hepburn highlands.

With approximately 2.5 grams of dissolved mineral salts in every litre of water—on par with some of Europe's most venerated mineral springs—the result is an elegant and gentle tasting water that's as natural as the earth it derives from. These minerals include sodium chloride and potassium chloride from rain clouds forming over the sea, as well as calcium, magnesium, sodium, potassium and iron from the rocks on which it falls.

The result is a mineral water from which you can taste a true sense of place—unique in its composition, quality, and purity.
We exist because of our local hero: pure, refreshing, natural mineral water. Because local matters to us—it's the lifeblood of our town after all—we make sure we stay close to the source. From our team (some 30 locals from around town), to packaging, bottling, warehousing, and everything in between, it's all done as locally as possible.

And of course, this is where we live. It's our neck of the woods. Our community. So, we love the opportunity to contribute to the prosperity of our town.

It also means honouring the natural goodness of our product while working to protect and preserve the essential beauty of its origin. The use of recycled materials, minimising packaging, and embracing the latest innovations that reduce our environmental footprint are standard practise. We carbon offset with Greenfleet Australia, a leading not-for-profit environmental organisation planting and restoring our native forests. And we're also invested in the region's fledgling community wind farm project, Hepburn Wind. We look forward to the day we can be fully reliant on local wind power to help bring the Daylesford & Hepburn Mineral Springs Co. range to you.
The ancient aquifer that supplies water for Daylesford & Hepburn Springs Mineral Water Co. sits on the traditional land of the Dja Dja Wurrung. The region's mineral springs were discovered by gold-rush settlers in the 1850s, but with gold largely depleted by the early 1900s, water became the most valuable commodity. Specifically, the therapeutic virtue of the natural mineral waters of the region.

It was the start of the region's now preeminent reputation as a mecca for rest and recuperation. City dwellers caught the steam train to the region, staying in mountainside guesthouses, picnicking beneath the tall gums, and most of all 'taking in the waters' renowned for its healing properties.

Today, the Central Highlands region of Victoria is recognised as home to the largest concentration of natural mineral springs in Australia and revered as the nation's premier 'Spa Country'.
It's called mineral water for a reason. Sourced from nature—and unlike tap water—it's free of any added chemicals, possessing only naturally occurring essential minerals long revered for their health benefits.

Drinking mineral water each day can enhance your overall health and wellbeing. It can aid weight loss (it contains no calories or fats), lower blood pressure, improve bone health, aid digestion, assist with muscle performance, maintain your electrolyte balance for good hydration, reduce the risk of kidney stones, and improve your skin. Even bathing in it has intensive therapeutic benefits.

The mineral water from the Daylesford & Hepburn Mineral Springs Co. is high in potassium and magnesium, two critical minerals essential for optimal mind and body functioning:

Potassium: is a very significant body mineral, essential for the correct functioning of all cells and nervous tissue and is important for the brain and nervous system.

Magnesium: is the body's natural stress reducer. It strengthens the immune system, controls blood pressure and relaxes the muscles. It is concentrated in the kidneys, bones, and muscles.

Other minerals present in our water include:

Sodium: to maintain the balance of water in the body, preventing stomach ailments.
Iron: aids the body in delivering oxygen through red blood cells and is essential in the formation of haemoglobin. It also prevents anemia.
Calcium: vital for the growth and functioning of bones and minerals.
Chloride: for healthy skin, hair and glands.
Sulphate and Silica: natural cleansing agents that help purify the liver. They are also known to strengthen bones, teeth, and skin.
Bicarbonate: aids digestion and balances the pH levels in the stomach, intestines, and blood.